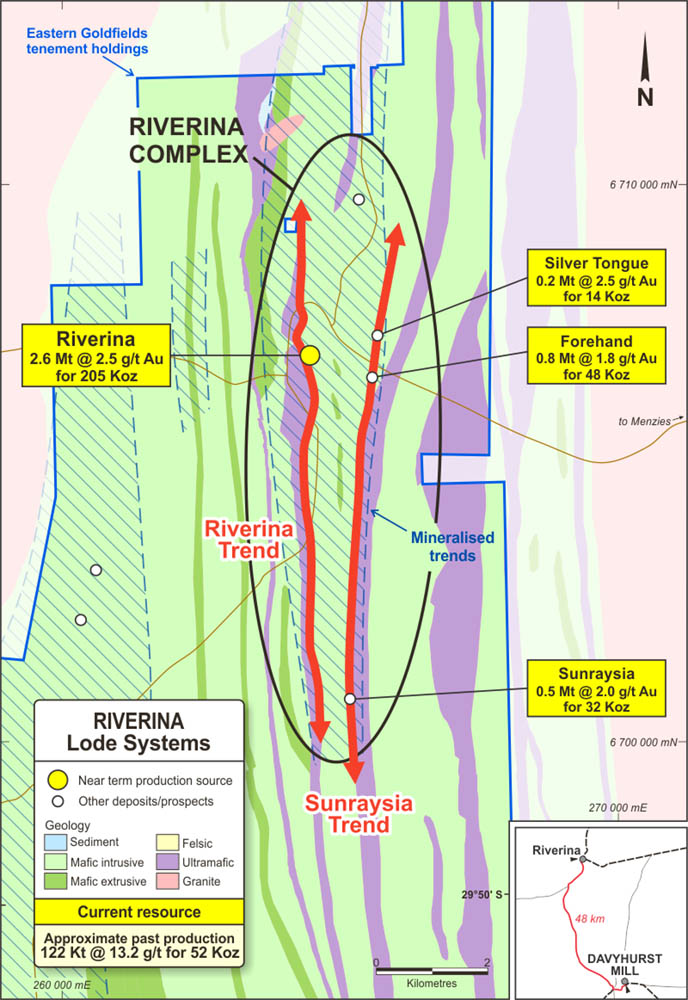 RIVERINA-MULLINE
The Riverina area is approximately 44 driving-kilometres north of the Davyhurst Processing Plant, with the Mulline Trend Area centred approximately 5km to its south west.
Gold resources within the greater Riverina-Mulline Project area have been defined at the Riverina, Riverina South, Silver Tongue, Forehand, Sunraysia and Lady Gladys deposits. The main Riverina deposit is one of the five advanced mining targets defined in the Company's Definitive Feasibility Study. Its high proportion of oxide tonnes make it an attractive early source of open pit ore, with mining currently scheduled to commence in Q4 CY2020. There is an existing haulage road between Davyhurst and Riverina.
Several additional advanced exploration targets are located within the area.
RIVERINA DEPOSIT
The Riverina deposit occurs as a series of mineralised shears within a package of mafic and ultramafic volcanic and metasedimentary rocks. The mineralisation is well-defined over a strike of approximately 1.2km and remains open along strike and at depth. The company intends to test below, and down-plunge of the historical Riverina underground workings as a potential source of future high-grade underground ore.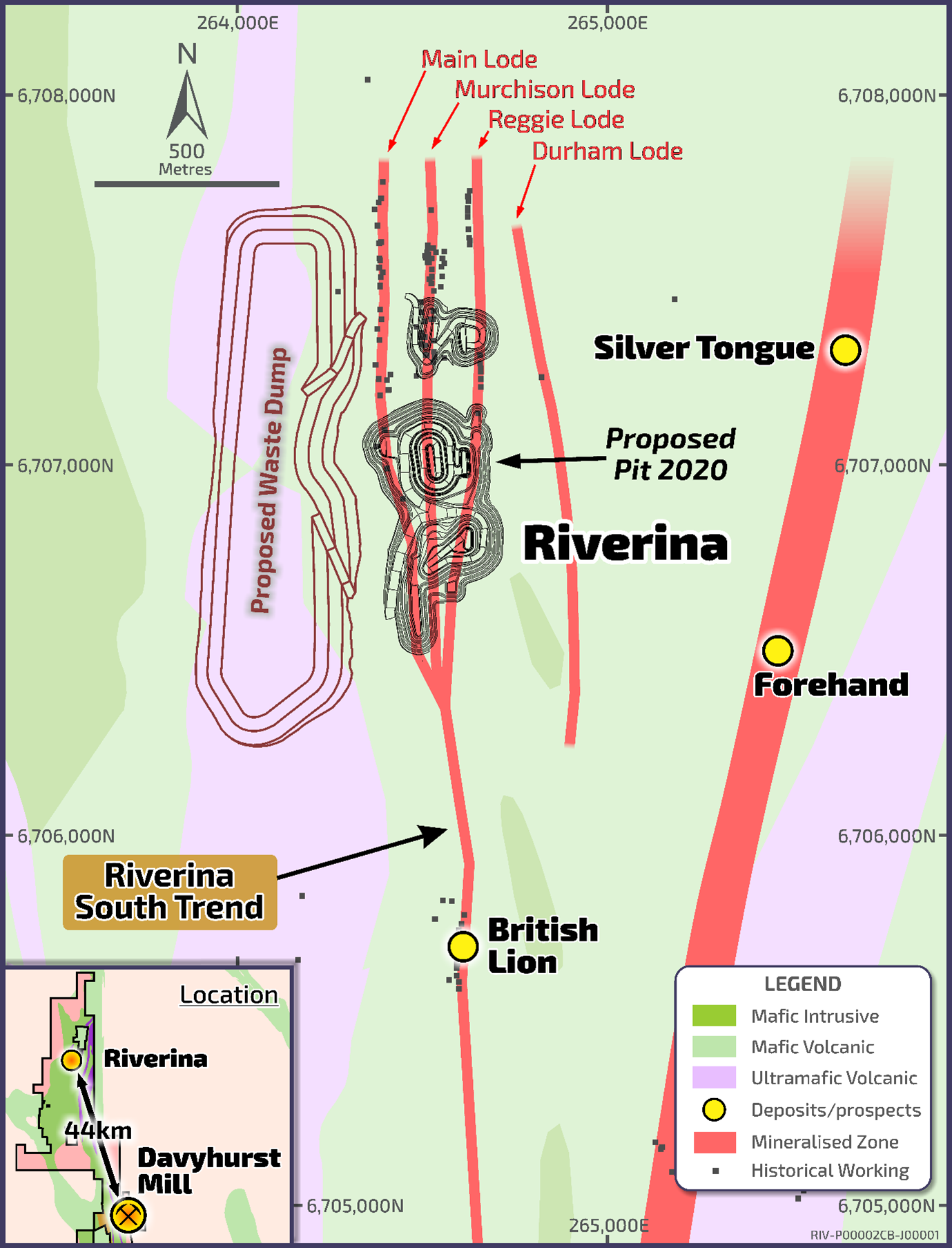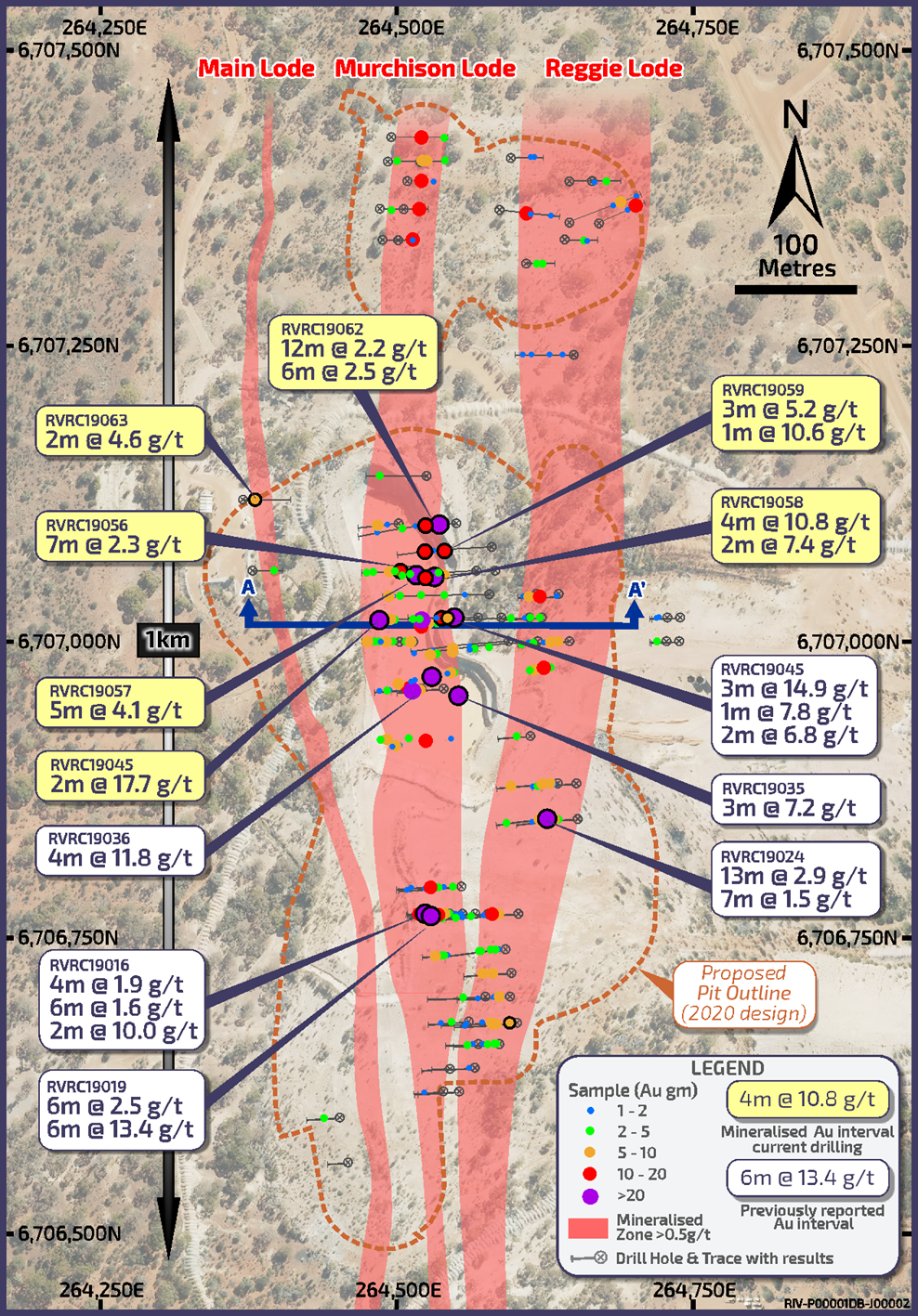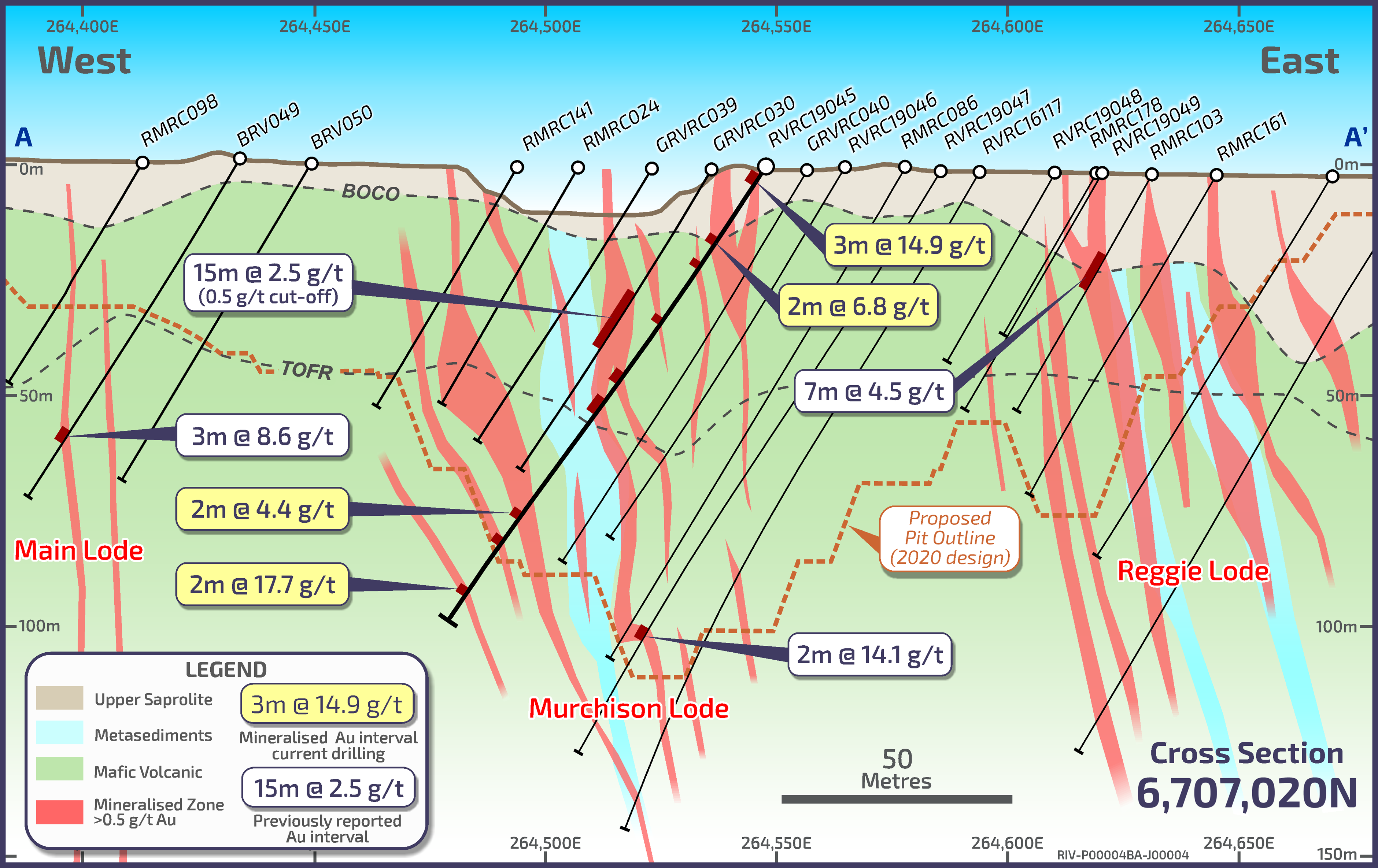 OTHER TARGETS – RIVERINA AREA
Riverina South: Following an agreement with the Riverina Station owners, an historical exclusion zone surrounding the nearby homestead was removed in April 2020. This has provided an additional 1.0km of mineralised strike potential between the immediate southern end of the Main Riverina deposit and the historical British Lion prospect to the south. Two phases of RC drilling have been competed along the Riverina South trend by OBM in 2020 with encouraging results. In the British Lion area, multiple and consistent mineralised lodes hosted in metabasalt, metasediment and ultramafic rocks have been defined. OBM has defined an initial inferred mineral resource of 650kt at 2.1g/t Au for 43,000oz along the Riverina South trend, with mineralisation remaining open along strike to the south and down dip.
Silver Tongue and Forehand Deposits: These deposits are approximately 1km east of the Riverina Deposit and within a similar rock sequence. The deposits are on granted mining leases. Additional drilling is required on each deposit prior to any update of existing mineral resources.
Sunraysia Deposit: Located approximately 5km south of Riverina, the Sunraysia Deposit is hosted within a similar geological sequence to that found at Riverina. Further infill RC drilling is required to fully evaluate the economic potential of the deposit.
Other targets have been identified within the project area that require follow-up evaluations.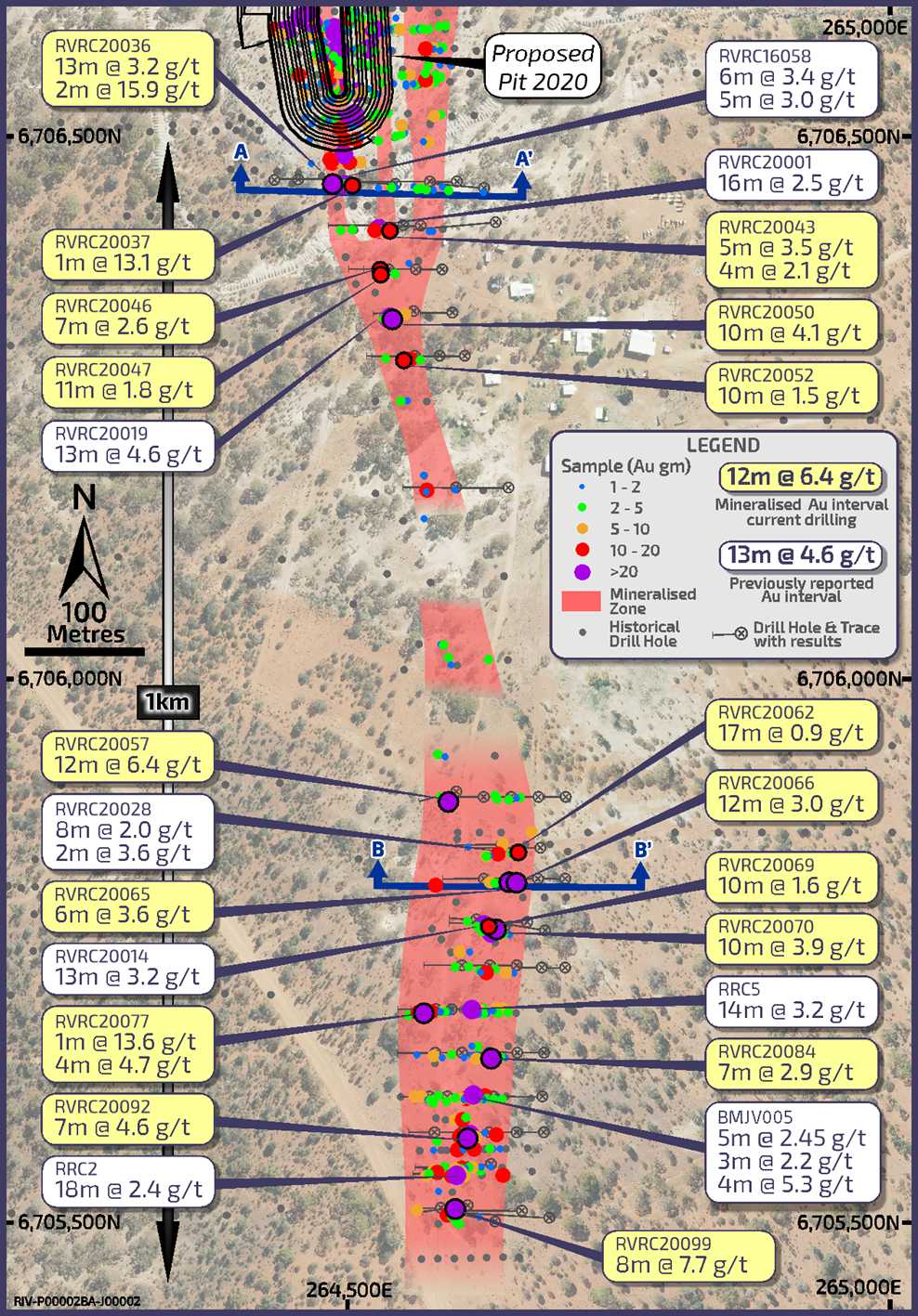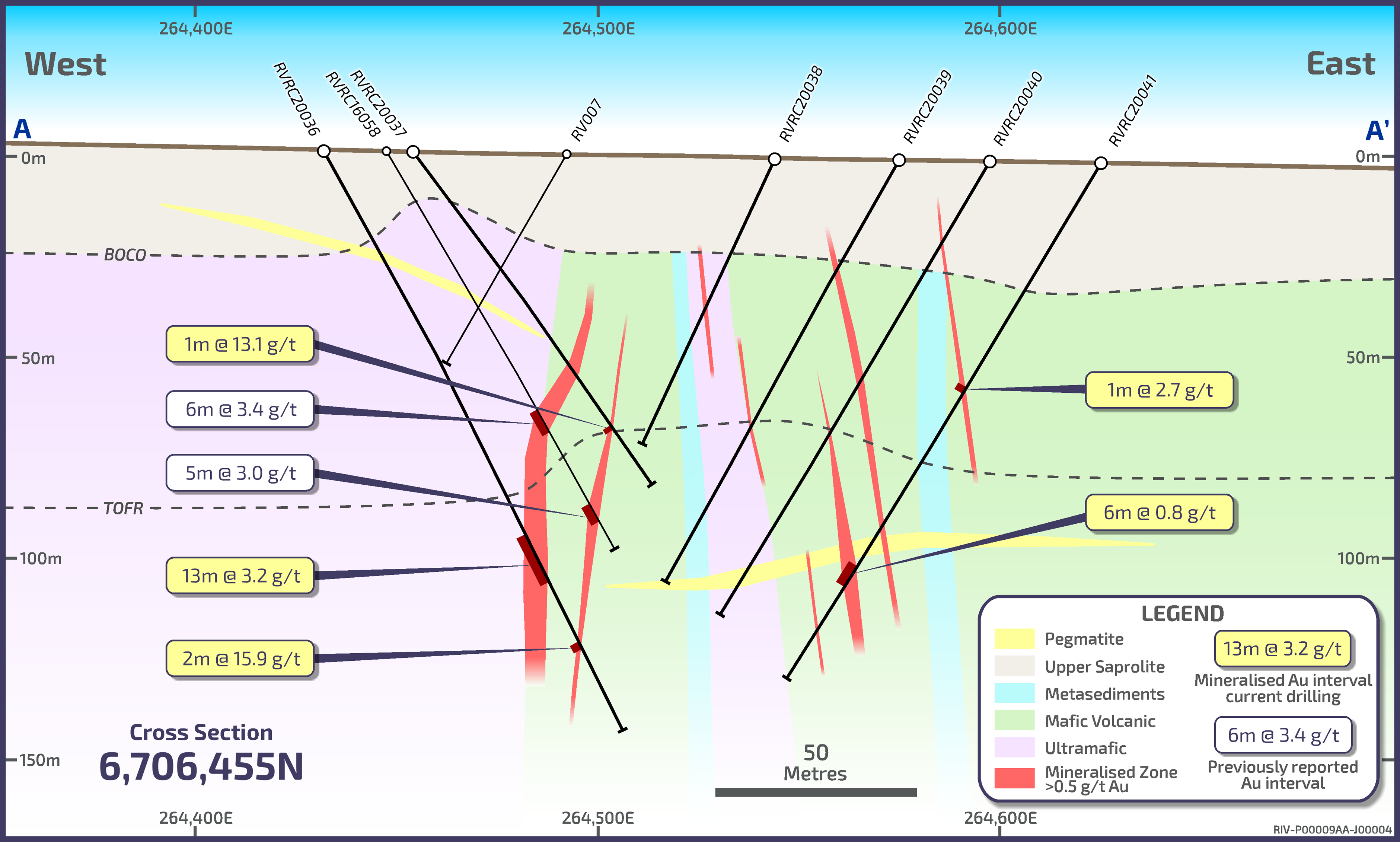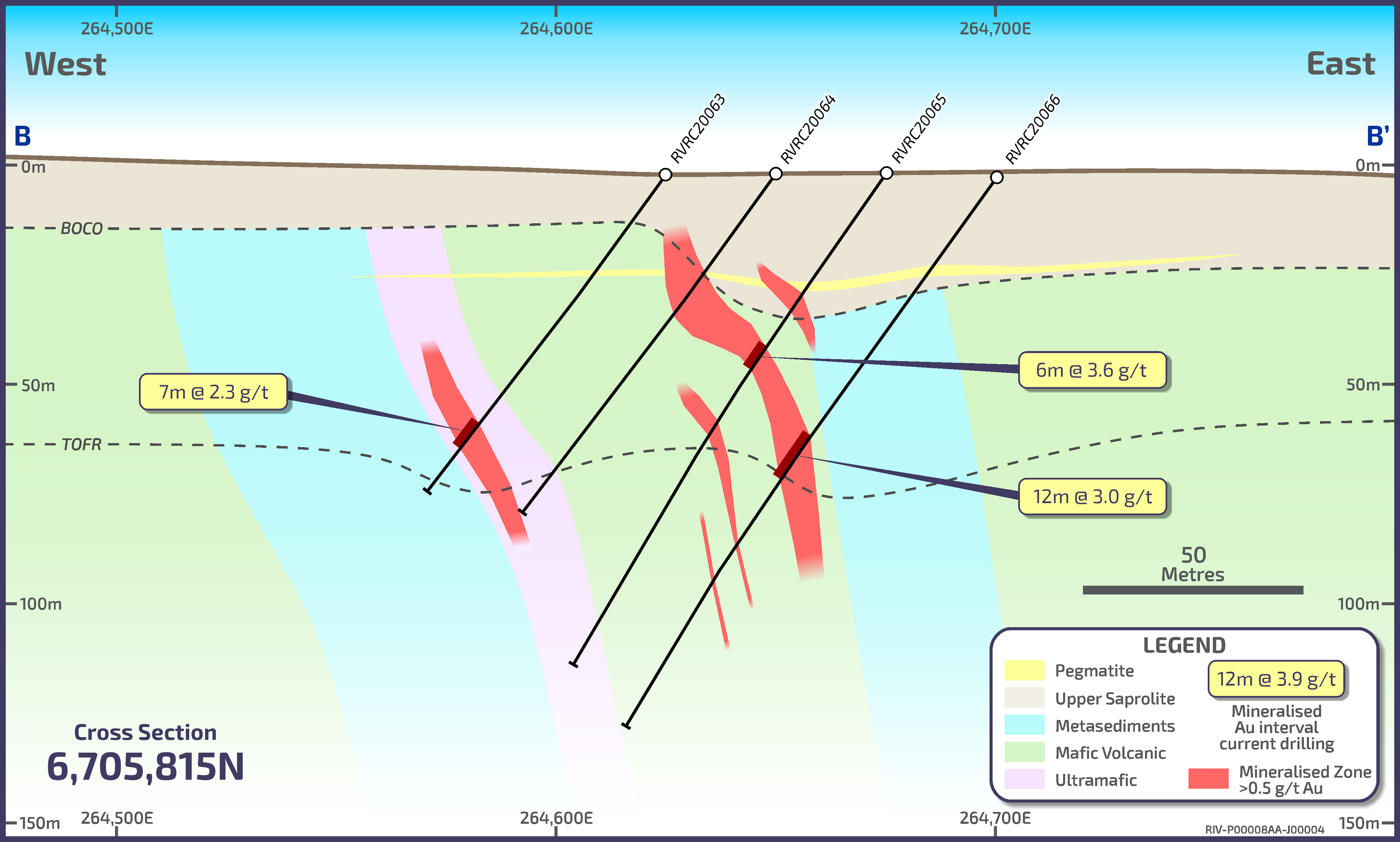 MULLINE TREND
The Mulline Trend covers an area of approximately 20 square kilometres. It is associated with the highest surface gold anomalism in the entire OBM landholding and includes several near-surface mined "laterite" gold deposits. Primary gold mineralisation is associated with quartz and sulphide veins that occur in shear zones within basalt and dolerite units. Mineralisation is also associated with porphyry units that have intruded the mafic sequence. The Lady Gladys open cut had a cumulative production of approximately 2Mt at 2.47 g/t Au making it one of the larger producers in the district.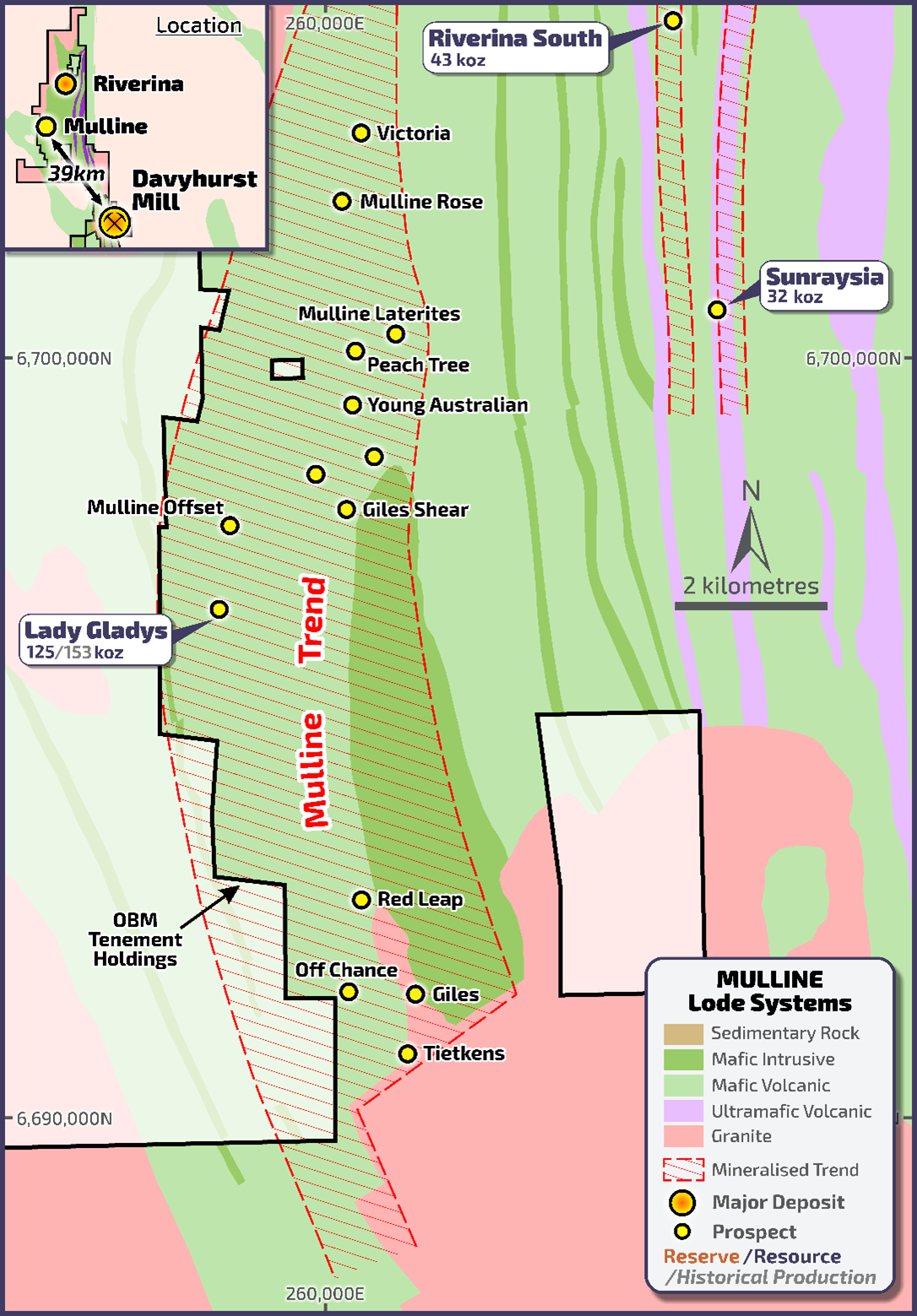 ADDITIONAL TARGETS
The company has developed a number of targets within the Mulline Trend project area for further testing.
Peach Tree / Young Australian
The Peach Tree and Young Australian prospect areas contain numerous shallow historical workings. The company has identified end of hole bedrock anomalism (>1 g/t Au) in historical RAB drilling at Peach Tree / Young Australian along known mineralised trends. These targets, together with additional bedrock anomalism at the neighbouring Victoria and Giles Shear prospects will be RC drill tested.
RESOURCES & RESERVES
MINERAL RESOURCES
HISTORICAL PRODUCTION
The table below summarises the cumulative gold production from the project based on the available records;